Mid-Century Marketing: How Bonded Lead Was Branded
Whether you're an avid vintage pencil collector or a casual fan, you have probably noticed that many brands — particularly those made in the USA around the mid-century — are stamped with curious and sometimes clever names to describe their leads.
Eagle called theirs Chemi-Sealed. Dixon had Leadfast. Wallace had Lockbond, and so on. Other manufacturers such as Reliance, J.R. Moon, and Linton simply used "Bonded" or "Bonded Lead" to describe what was essentially the same thing: Lead and wood glued together during the manufacturing process. Today this may seem trivial, but 75 years ago the benefits were noteworthy. Not only did bonding prevent broken lead from slipping out of the wood casing, it added overall strength to the pencils as well.
Side note: Pencil "lead" is actually graphite, which is a form of carbon. Long ago, however, it was thought that graphite was a type of lead. The name unfortunately stuck, and confusion persists to this day. The truth is, pencils have never contained real lead, which is toxic to people and pets. (Unless we're talking about lead paint found on old pencils, which is entirely possible.)
Today I scanned through my collection of more than 6,000 vintage brand name pencils looking for the various ways pencil manufacturers once gained (or attempted to gain) an edge over their competitors in marketing their glued-in leads. Here's what I found.
Woodclinched by Eberhard Faber
It appears that Eberhard Faber printed the Woodclinched moniker only on select pencils with the diamond-star logo (yes, this includes the famed Blackwing 602). According to the U.S. Patent and Trademark database, the company first used the name Woodclinched in April of 1940 and received a trademark for it later that same year.


Leadfast by Dixon
While many vintage Ticonderoga pencils carry the Leadfast moniker, Dixon also applied the brand to a small handful of other models including the very nice Leadfast Flamingo 303.
An early 1950s ad by Joseph Dixon Crucible Co. made it clear what the "fast" in Leadfast was all about: "With Dixon's exclusive Leadfast process the lead is held fast in the wood. Lead and wood are unified! You get true sharpening without splintering or burring!"
The company received a U.S. trademark for the name in 1953.

Lockbond by Wallace
St. Louis-based Wallace Pencil Company slapped Lockbond onto just about all of their mid-century-era pencils. Here are some examples:

Chemi-Sealed by Eagle Pencil Co.
Eagle stamped both its Turquoise and Mikado (aka Mirado after WWII) pencils as being Chemi-Sealed. A 1940s-era Mikado magazine advertisement listed two U.S. patents involved in Eagle's "super bonding process" resulting in lead and wood being "inseparably welded to combine their strength against breakage."
The company first received a U.S. trademark for the name in December of 1933.



And then there's this little gem — an early (very early) Eagle Turquois with a yellow finish marked with "Compressed Lead" in a similar script font as Chemi-Sealed in later models. Note the alternate spelling of Turquois as well.
Pressure Proofed by American (Venus) Pencil Co.
The American Pencil Company, which changed its name to Venus in 1956, called their version of bonded lead Pressure Proofed. "Venus Velvet pencils are strong because the lead is PRESSURE-PROOFED," boasts a pre-1956 matchbook ad featuring two little men tightening clamps onto a pencil. "This means that the lead is actually bonded to the wood," the ad (pictured below) proclaimed.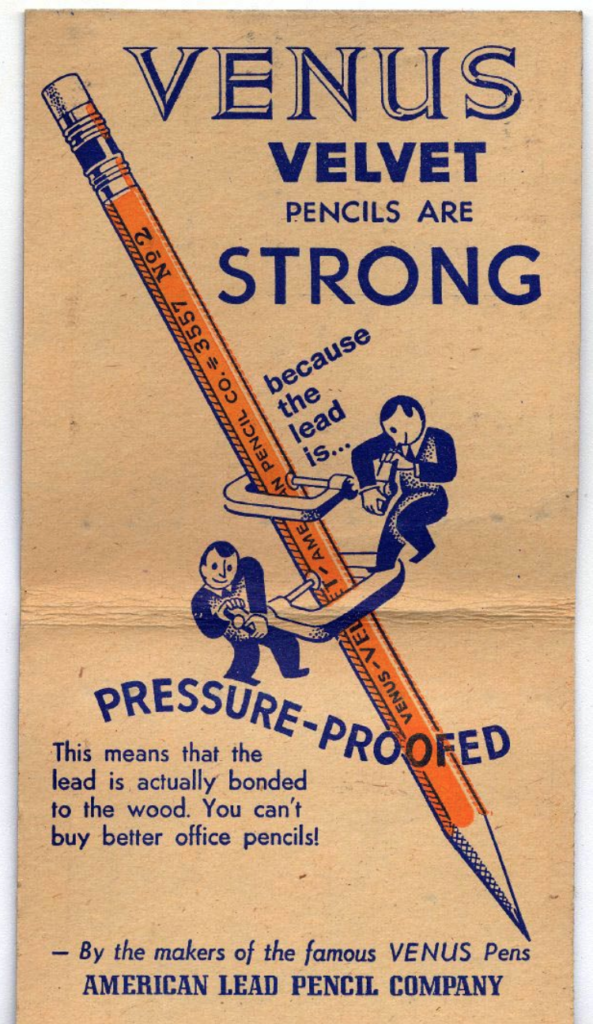 Anchord Lead by Empire
Shelbyville, TN-based Empire Pencil Co. not only chose a clever name for their bonded lead, they gave it a logomark as well. Note the unique spelling (Anchord vs. Anchored) in the examples below.



And there's more
Time doesn't permit me to go into detail about every bonded-lead pencil brand in my collection, but here are some additional examples with interesting names.
Dyno Bond by Atlas Pencil Corp.

Lektrofused Lead by Richard Best Pencil Co.
Flexabond by Blaisdell

Fuse-Tex by National

Triturated Bonded Lead by Indiana Pencil Co.

And last but not least …
Carbo Weld Lanolized Lead by General Pencil Co.